Dry cleaners nearby: free 24h delivery service
Dry cleaning collected, cleaned and delivered to your doorstep
Schedule your pickup
Excellent service from this company. Clothes dry cleaned and returned within 24 hours, superb job done. There customer service is excellent too- I left a work pass on one of the items and after an email exchange they returned it to me very quickly. Highly recommended.
0 min
Pickup and delivery to your door
Open: 24/7
watermark dry cleaners
Visit website
Town Houses - Twon Square Dubai ( Zahra and Hayath - Dubai - United Arab Emirates
+971 50 500 1931
Show number
Cleaning services
Visit website
Persia cluster N 08 office No 16 - Dubai - United Arab Emirates
+971 50 717 7856
Show number
Silver Star Laundry - Murjaan Branch
Visit website
Murjaan 2 Shop no - P58 ,JBR, DUbai,UAE - Dubai - United Arab Emirates
+971 55 178 3290
Show number
The Laundry Press Laundrers LLC
Visit website
Dubai - United Arab Emirates
+971 52 115 2207
Show number
Tired of searching for a new dry cleaner?
Try Laundryheap for a reliable dry cleaning service
Schedule your pickup
We work with your best local dry cleaners to provide the service directly to your door.
What our customers say about our dry cleaning service
by 5,000+ Users
The collection and delivery was very…
The collection and delivery was very prompt. The collection agent was very helpful and polite and the quality of dry cleaning was excellent.
Arun Kumar
Very efficient next day laundry or dry…
Very efficient next day laundry or dry cleaning everything is spot on no complaints
Tracie Fitzpatrick
brilliant service ..yet again
brilliant service ..yet again. this is so easy no more trips to the dry cleaners
Carole Edwards Nee Sharman
flexible
1. Schedule your collection.
Plan your day with ease. Choose a collection and delivery time at your convenience.
Book online or with our mobile app
Weekend and evening slots available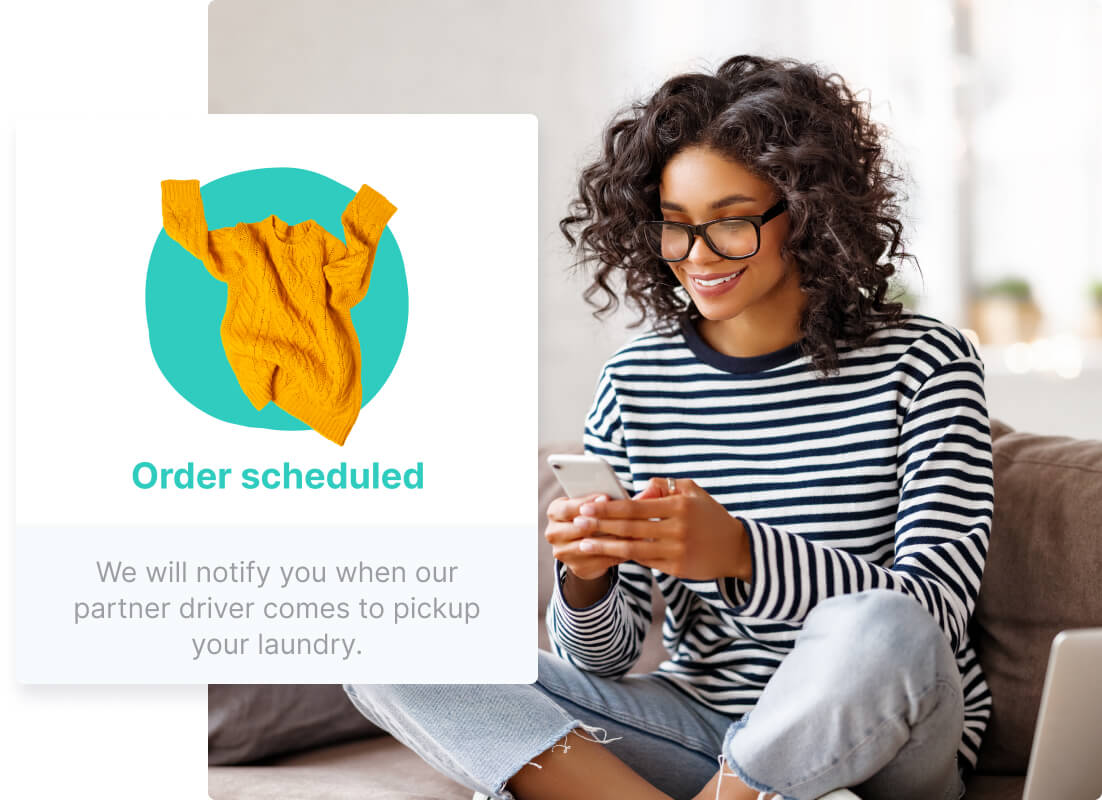 ---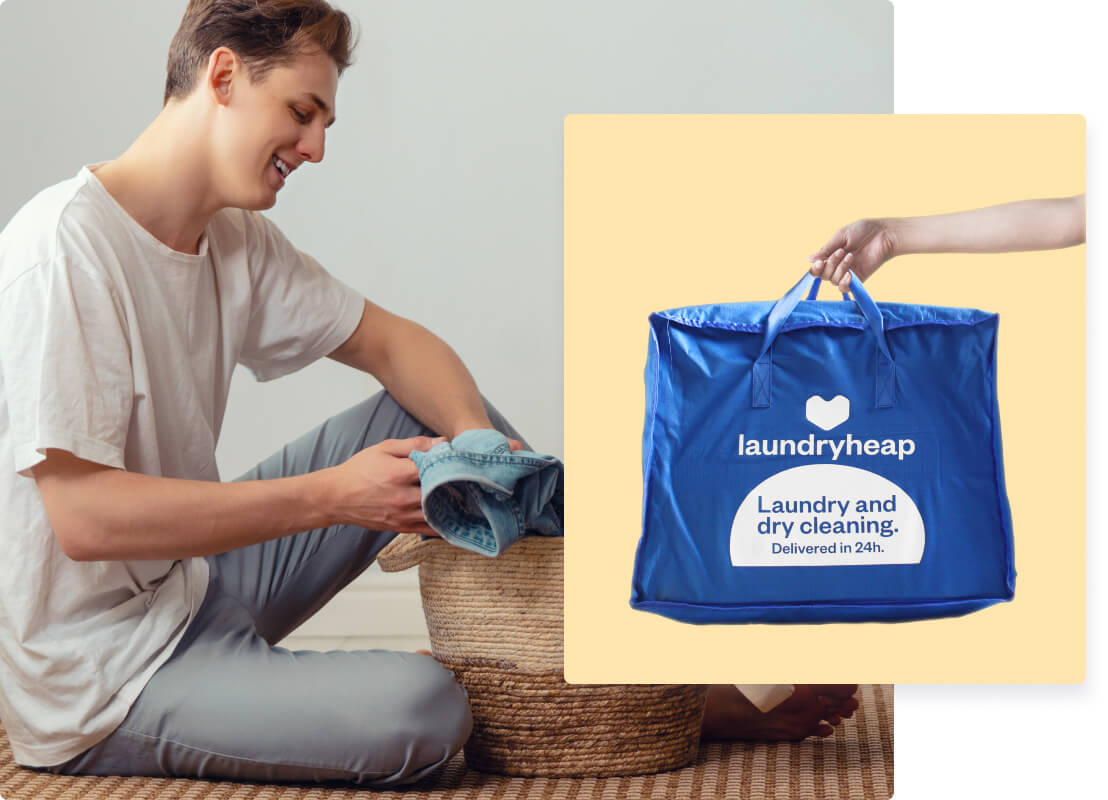 QUICK & EASY
2. Pack your laundry.
Pack your items in a disposable bag. Use one bag per service. Our driver will transfer them to reusable Laundryheap bags which you can keep for your next order.
Pack one bag per service
No need to count or weigh your items
---
transparent
3. Wait for our driver
You'll receive a notification when our driver is nearby. They will collect your bags and take them to your local cleaning facility.
Regular order updates
Live driver tracking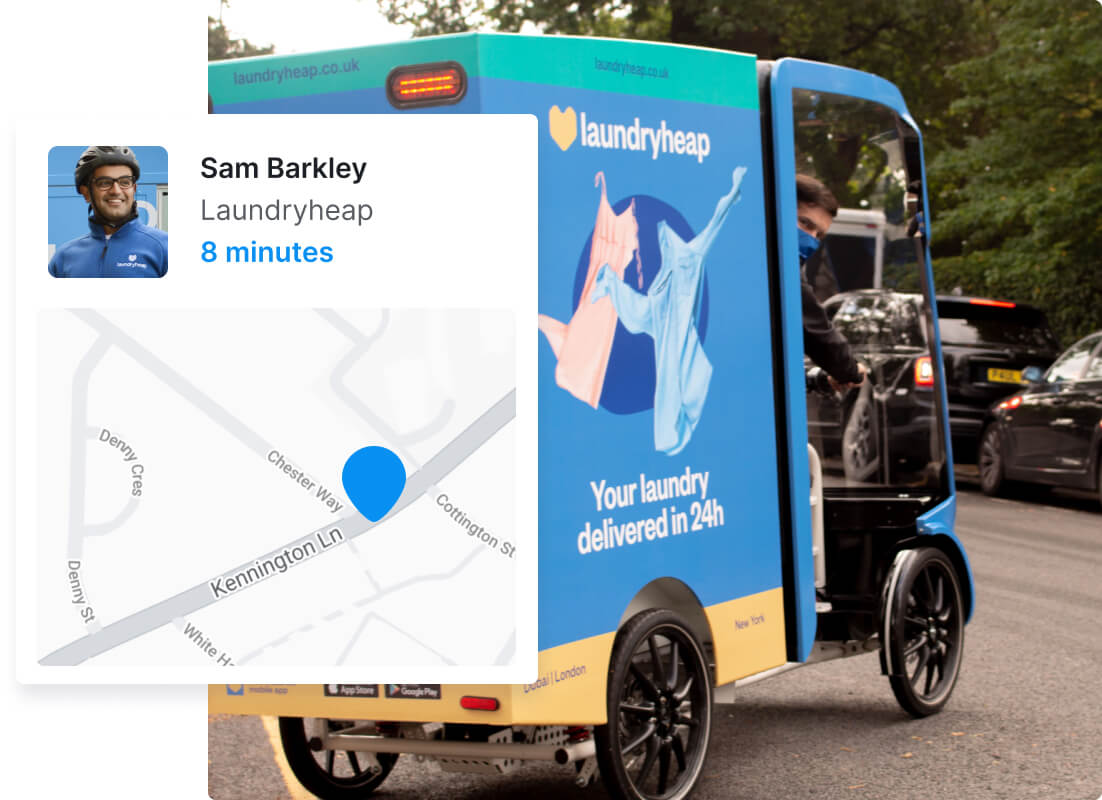 ---
CONVENIENT
4. Relax while we take care of your laundry
Your local partner facility will clean your items with utmost care. Our driver will then deliver them back to you whenever you like. You're in full control of your delivery and can always reschedule if not at home.
24h turnaround time
Real-time order status
Easy to reschedule
Get laundry and dry cleaning delivered to your doorstep in 24h.
Free same-day collection
Our driver picks up your dry cleaning in the same day. No additional fees.
Delivery in less than 24 hours
We collect, clean and deliver your laundry and dry cleaning in 24 hours.
Standard wash for just AED55.0
Per load of 6 kg - 30° machine wash and tumble dry.
Why Laundryheap's delivery system works
End-to-end tracking experience
Free delivery to your door
Multi-location delivery with mobile GPS tracking
Delivery at a time of your choosing
24 hours turnaround time
Controlled washing environment
Damage free assurance
Clothes independently washed and cared-for

What is dry cleaning?
Dry cleaning is a cleaning process that uses non-aqueous chemicals to clean fabrics and garments, instead of water. This process is the best choice for removing dirt and odours without risking damage to delicate fabrics. Please double check your clothing care labels before opting for this service.

What types of items can be dry cleaned?
Any items made of natural fibers should benefit from a dry cleaning service, but you should check the care label of the items to make sure they are suitable for this. Even if dry cleaning is usually a safe option for most of the garments, not all items will react well to this cleaning process.

Common colour changes in dry cleaning
1. A dye that is soluble in dry cleaning may fade during care. If two or more dyes have been used and only one is soluble, there is a good possibility of a dramatic color change. For example, if a yellow dye component of a green garment were to break down, you could be left with a blue garment. There is no way of knowing this in advance.
2. Fading may occur in household items such as bedspreads and curtains/draperies. Often the fading may not be noticeable until the item is compared with a matching item. We recommend that all matching items be dry cleaned or laundered at the same time to ensure color uniformity.
3. Most dyes eventually fade with exposure to sun or artificial light. Color failure may occur rapidly on exposed areas of garments such as shoulders, collars, and sleeves. Particularly sensitive are blue, green, and lavender dyes, especially those used on silk or wool fabrics.
Book our 24h dry cleaning delivery service.